Win money from home with HQ trivia
Another app that is similar to swag IQ, there is HQ trivia which is a live daily game show that allows you to answer questions to potentially win the big prize. This app is another one in which you split the prize with the remaining winners; however, what is different with this compared to swag IQ, is that you win money. The money that is won is then dispensed into your Paypal account. One thing to make note of is that you do need to have a paypal account in order to redeem winnings. The rules are the same, you have 10 seconds to answer questions. There are 10 multiple choice questions between you and the grand prize. Questions will vary on the level of difficulty from insanely easy to incredibly difficult. Games move pretty quick usually around 15 minutes per game.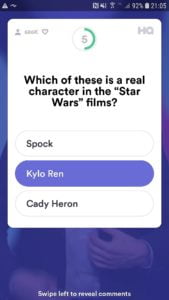 How much can I win?
Although I do like HQ, the payout is a little bit less than SwagIQ. But this is because of the number of players that take part in the daily games. It can be upward of 1 million players at a time.With that being said, the prize that is being split is a lot higher. On average, the prizes with HQ trivia is $5,000 prize and up to $25,000. On occasion they all have a winner-take-all game with the price being up to $25,000.You can save up your winnings and have one large payout to your paypal account. It usually takes about 24 hours for the payout and balances to update. I have recently started to playing this one and haven't had much experience yet. But first impression is positive.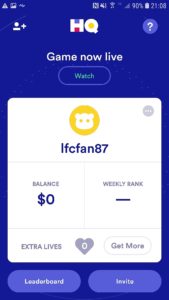 One bonus to keep in mind is that the more people you refer the more free lives you get. You can use your free life after you have been eliminated to rejoin the game. One negative is that unlike Swagbucks, you don't have the opportunity to earn bonus points along the way. However, with the payout as high as it is most of the time, it is a decent trade-off. Overall I feel like this is a good option to potentially make some extra cash. Keep in mind that there is no guaranteed prize but worth a shot at winning some extra cash. One pretty cool thing with HQ is that the players can submit questions to possibly used in future games. If you decide to play, click here and you can add my referral code "lfcfan87" if you would like. May the questions ever be in your favor!
If you want to learn more about Swag IQ, click here