Frozen Holiday Wish live stream from Magic Kingdom
Now that Halloween is over, we have entered the Christmas season at Walt Disney World. Soon the Christmas parties will be starting and the decorations are already up. Part of the decorations includes a magical makeover for the castle for during Frozen Holiday Wish. Which we are pleased to announce will be live-streamed this month! This is the first time that A Frozen Holiday Wish live stream has taken place. Christmas decorations are already up and creating a festive ambiance to the park. Watch as snow falls over Disney World.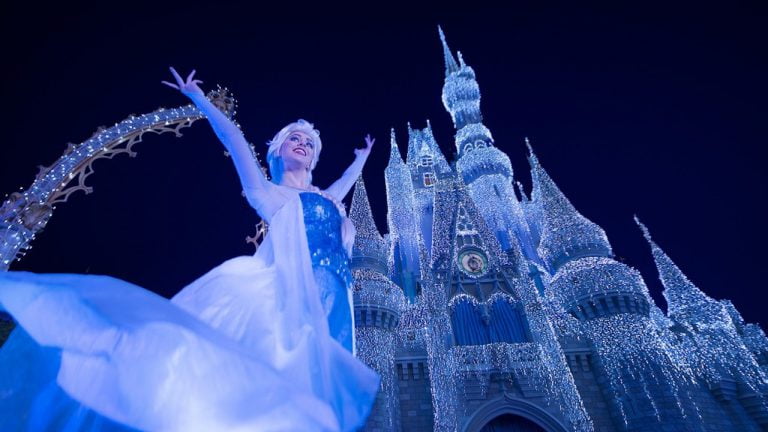 When can I tune in?
The Frozen Holiday Wish live stream will start at 6:10 p.m. Eastern Standard Time on Sunday, November 3rd. You'll be able to find a link for it on Disney Parks Blog and on YouTube. I will also try to update a link on this post tomorrow night.
Live stream can be found Here!
A nighttime spectacular
Watch as Elsa transforms Cinderella Castle along with the help of Anna, Olaf, and Kristoff. This show first took place in November of 2014. It has been a fan favorite around this time every year. Tune in to to see the castle turn into a glimmering ice palace right out of Arendelle. This is a mix of a light show and stage performance.
As you know I'm a huge fan of the Disney live streams and look forward to watching this one. It is one of a few times that I'll be able to compare to seeing this in person in the next few weeks. If Disney knows how to do one thing it is night time shows, especially during the holidays. Watch as the Magic Kingdom takes on a whole new feel for the season! You should be able to watch later on through their Youtube channel as well.
Are you going to tune in to the Frozen Holiday Wish live stream? Let us know when the comments below